Become a Sponsor of Second Opinion with Joan Lunden
REAL DOCTORS REAL PATIENTS TRUSTED HEALTH INFORMATION FROM PUBLIC MEDIA
A partnership with Second Opinion with Joan Lunden allows you to reach audiences from the educated and independent-minded, to health care providers, patients, and families.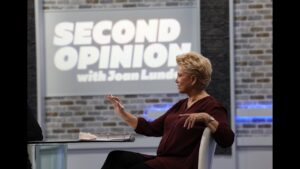 Second Opinion with Joan Lunden is a national health initiative that reaches an engaged audience through television, web, social media, and community and national outreach. The series has been helping people become healthy, stay healthy, and navigate the healthcare system since its launch in 2004. Second Opinion with Joan Lunden uses the power and the mission of non-commercial public media to educate, promote good health, improve doctor/patient communication, and empower people to take charge of their own healthcare.
Second Opinion with Joan Lunden focuses on health literacy in a way that is relevant and accessible to viewers in a format that engages and entertains. The program and related website and social media presence provide up-to-the-minute health information on every platform, and the weekly television program engages viewers from across the United States as they watch doctors and patients talk through every health issue imaginable.
To learn more about the benefits of sponsorship, please contact Executive Producer Fiona Kay Willis at fwillis@wxxi.org