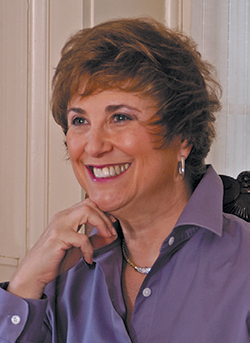 Pamela Yates was born in the Bronx to a Roman Catholic father and Jewish mother and began her career in advertising in New York City while also singing professionally with the Sammy Kaye Orchestra. Following the demise of her first marriage, she moved to Connecticut with her two children, Sean and Stacy, and married acclaimed automotive journalist Brock Yates.
She has spent the better part of the last 40 years immersed in the automotive industry. Her marriage to Brock was a true partnership and together they spent their time traveling, networking, and researching various projects highlighting the growth and changing times of racing, the drivers and the evolving technology of motorsports. Pamela has never shied away from any situation Brock and she encountered, from pretending to be a patient in the ambulance which traveled from coast to coast in the final Cannonball Run, to wading through the muck of swamp buggy races or standing in the pits and press boxes of races throughout the country, she has been an advocate and admirer of any and all things automotive.
In the past 2 decades she has also become a fixture at vintage events like the Amelia Island Concours d' Elegance, the 1000 Islands Concours d'Elegance and Pebble Beach. Through her knowledge and friendships, she has become a well-liked and highly respected member of the vintage automotive community.
Pamela faced unimaginable heartache when she lost her son to cancer in 1994, becoming a tireless advocate for Hospice reform and when faced with Brock's diagnosis with Alzheimer's disease, she once again picked up the gauntlet, advocating for more research and clinical trials, pushing those in her community for charitable donations and improved education.
She is an author in her own right, having published her memoir The Gift of More, which details the diagnosis of cancer and subsequent death of her son, Sean.  She has also contributed to several publications including the American Spectator and was featured in USA Today.
Throughout her advocacy, she remained a staunch supporter and member of the automotive community. Since Brock's diagnosis, she has also become his voice, keeping his projects alive and allowing new generations of car lovers to embrace the craft of the man many define as a founding father of automotive journalism.
Over the past few years she has worked diligently to get some of Brock's finest books republished including the highly respected biography, Enzo Ferrari; The Man, The Cars, The Races, The Machine which has been updated and is set to go into print globally in 2019. This biography has also been optioned by Michael Mann, starring Hugh Jackman, and is set to be made into a major motion picture in the very near future.
When Brock passed away from Alzheimer's in October of 2016, Pamela faced a new chapter in her life and in true form, she continues her advocacy while also maintaining her connections to the auto industry. While Brock was always her soul mate, she also fell in love with the people, places and events which encompassed the majority of her adult life. She feels truly blessed to be a part of a community which is so spirted and inclusive and Pamela remains devoted to promoting all forms of motorsports while ensuring Brock's legacy.
The 'Ferrari' movie is set to be released in 2020. The movie will be a bio-pic based on Brock's biography on the life of Enzo Ferrari. 'Ferrari' will be available in fifteen languages around the glove. If that doesn't sound like a lot to grapple with, Pam has also just closed a deal with Warner Bros for the rights to Brock's iconic 'Cannonball Sea to Singing Sea Memorial Dash,' known around the world as 'the greatest outlaw automotive adventure.' Brock's first Cannonball movie was done in 1979 with Burt Reynolds, who recently passed away. In 1971, while lead columnist for Car and Driver Magazine, Brock created this underground event to prove that his nemesis, Ralph Nadar, was not correct about his theory that 'speed kills.' Nadar, who has never driven a car and real claim to fame is his unusual fashion statement, wearing combat boots with business suits, was proven wrong. The death rate on the autobahns where speed was not until recently regulated, was no higher than in the U.S. where the 55 mile an hour speed limit was strictly enforced. All that said, "Yes, the 'Cannonball' was a real event." The public's fascinating with the Cannonball continues to this day. In a world that has lost its sense of humor, in 1971 Brock was able to combine a sense of the absurd with a message of common sense and skill.
The new 'Cannonball' movie will be packed with a star studded cast and directed by Doug Lyman. Lyman directed Mr. and Mrs. Smith, The Bourne Identities, and recently Tom Cruise in American Made. Of course, the 'Cannonball' book will be released along with the new movie.